I
particularly
enjoy the pretty wedding photo at the forefront of the seized items: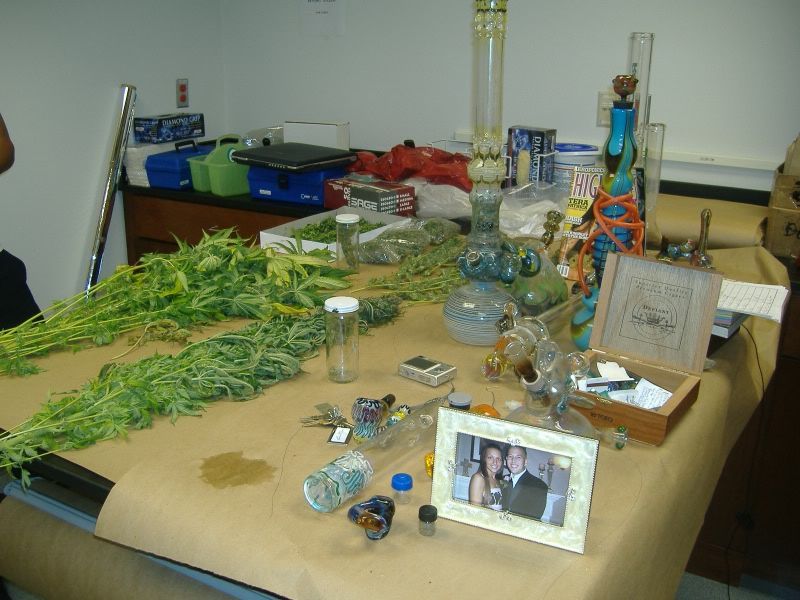 On July 11tth, 2008 at 12:43 PM, the management of the Forest Hills
Apartments reported that an unknown foul odor had been noticed for the past few
days coming from somewhere in 12 Melrob Court. After checking all common areas,
management gave prior notice to all residents that an individual apartment check
would be made in attempts to find the source of the odor on July 11th. When they
came to 12 Melrob Court, Apartment # 1, there was no response at the door.

It was evident that someone was inside. Due to concerns for the safety of
all, police were called. Officers could not get a response at the door either.
The officers made entry to the apartment and found two people were locked behind
an inner door. After a brief hesitation, the subjects heeded orders to come out.
During the course of checking the apartment for obvious signs of safety issues,
a large amount of marijuana and marijuana paraphernalia was seen in the open.
The premises were secured and a search warrant was obtained. Upon serving the
search warrant, a large amount of marijuana and paraphernalia were seized. Some
of it was freshly cultivated. It was also found that a growing room for the
purposes of raising, cultivating, and processing marijuana had been set up in a
spare bedroom of the apartment. The drugs and other seized articles are still in
the process of being quantified and catalogued at this time. The two subjects
were arrested. Resident Jonathan David Stievert, 25 is being charged with
Possession/Manufacturing of Illegal Drugs and other related offenses. Jennifer
Lynn Wilkins,21, of Waterview Drive in Edgewater is being charged with Drug
Possession. She is a former resident of the apartment, who had moved out a few
months ago and was apparently there visiting today.